How to Tell the Truth About Love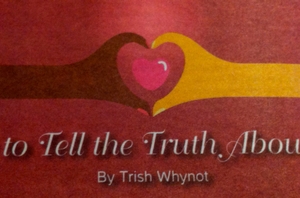 In Spirit of Change's Spring Issue ...
How to Tell the Truth About Love
by Trish Whynot
Holistic counselor Trish Whynot answers Why me? Why now? Why not? in her new page turner on everyday enlightenment.
I used to be one of those people who would be quick to tell you that something didn't bother me when deep down inside it did. That was how I had learned to cope. I was even proud of how I had mastered this version of pridefulness. But it was this dishonest methodology that led to my health problems, relationship discord, and financial challenges...