In honor of the day that celebrates gratitude I wanted to gift you with a refreshing story I read recently for which I am grateful. I took the liberty of expanding on its essence. You know me! The story is about a woman groundskeeper named Marcia who worked at a church. She had experienced incredible pain and brokenness in her life and come out the other side to the love. This is how you know.
The people from this church wore name tags during church services. When the services were over there would often be some name tags scattered about the church grounds and parking lot. As Marcia went about picking up the inappropriately discarded name tags it would be easy for her to view the 'guilty' attendees as disrespectful, careless, or neglectful, right? Well, not Marcia. She saw them as in need of a prayer. She would place the name tags in her pocket and would pray for these people all day. It didn't matter if she knew them or not, or what their excuse.
Marcia didn't even think to take the situation personally. She saw the guilty attendees through the eyes of her heart. No one who feels all good about themselves goes around littering—literally or figuratively. Everything we do is either love or a call for love. When a call is subconscious it can only be heard by someone who is loving.
When we view a situation through our wounded eyes we make it about us. I do believe that through the eyes of our hearts we see what God (or your term of endearment) sees. After all, God is Love. Have you ever judged someone's behavior and separated when what they really could have benefited from was a hug (literal or figurative)? We can't see the brokenness in someone else when we have not made peace with our own. When left to our own unhealed understanding we can be harsh.
If Marcia hadn't already healed her wound she could have felt angry, disrespected, powerless to get people to be responsible for properly disposing of their name tags. But because she had healed, she felt love and understanding for the guilty attendees—she saw through their behavior rather than a need to attack it. Marcia's love couldn't be rocked, at least in this case. She was in her power, the power of love.
This is a small example that can be applied to so many things. The good news is with the right resources our wounds are within our power to heal and our connection to Source—to Love—can be reestablished.
Wisdom is born of experience. I am grateful for Marcia's demonstration of humble love, heart vision and compassion. I thought this story offered something thought provoking, uplifting, inspiring, sweet and calorie-free to chew on this Thanksgiving. We are all walking each other home, back to the Love from which we came. Whether we know each other closely or remotely, thank you for walking with me.
From my table to yours, Happy Thanksgiving!
Friends in this Love,
Trish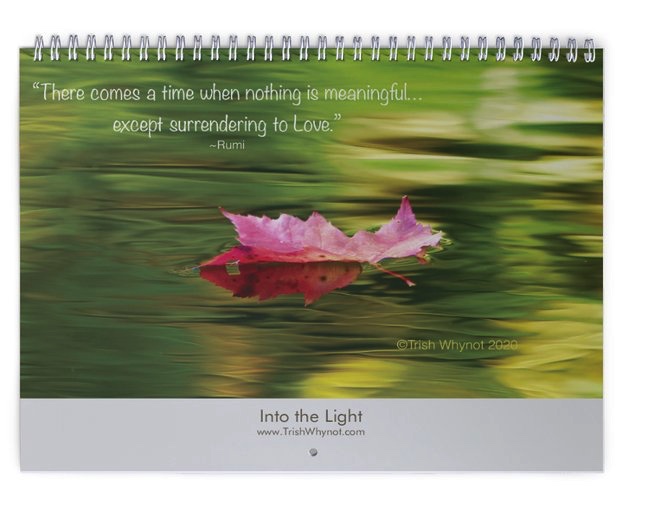 Click here to order a 2021 Calendar for yourself or as a gift.