My Valentine's Day Blog is dedicated to my mom. A handful of you know that she left this world last summer at the age of 91. Fortunately my mom and I were able to heal most of our unfinished business before she developed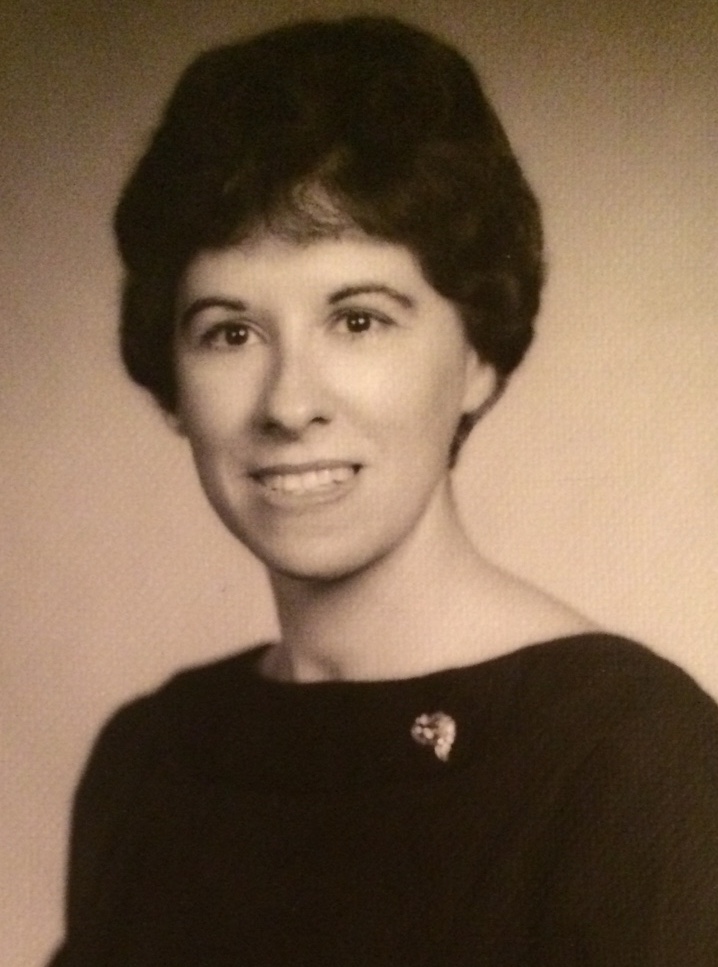 dementia. Some cool stuff happened the day following her passing that prompted my writing of her eulogy / Words of Remembrance. Who knows, maybe she even helped me to write this. In the end these words that I shared at her funeral not only provided a couple valuable missing pieces to our puzzling relationship but turned out to be a conversation about relationships in general. My hope in sharing is that these little stories touch your heart, bring light to your Valentine's Day and maybe even to your relationship with your mom. Rereading my words has definitely brought all these things to mine.
My mom had an eye for elegance. In the Filenes Basement days she'd always know when the Boston store was going to have their surplus of designer dresses and bring home a bunch for me to try on. Her taste was more often than not spot-on with mine. I'm not a fan of shopping so it was a win-win—she loved to shop and I appreciated not having to, as well as her taste.
We didn't always see eye to eye. If you knew my mother you'd know that she never stepped foot on an airplane. She'd worry if she knew I was flying anywhere. Worry was how she showed her love. I tried to explain to her my thoughts that worry was wasted energy but she refused to buy into my theory so I learned to wait until I got back from a trip to let her know that I had traveled. That way I could avoid her being angry at me for doing something "risky." She was appreciative for not having to worry but it always left me a bit frustrated because I wanted to share more.
When I was driving to the mall in pursuit of a dress for her funeral I threw this conundrum on worry up to God. "What was that all about?" I asked Him. The answer I got went something like this… "If worry was how she showed her love, and she was angry at you for doing something she felt was "risky," then she must have REALLY loved you." This realization brought me to tears.
I believe that when someone dies they leave their loved ones with a gift. Who knows, maybe my mom needed to be on the other side in order to explain herself. Or maybe I had peanut butter in my ears for all those years prior. All I know is that I am eternally grateful and at peace for being able to fit that final piece of our relationship together. We may have spoken different languages when it came to worry but in the end the universal language was love.
When I got to the Rockingham mall I remembered that they have a Lord and Taylor. That used to be our go to store (when I was a bit older than the Filenes Basement days and my mom was more mobile) so I thought it appropriate to look for a dress there first. I'd been looking for a black dress for the last couple years with no luck but that day I found what felt like 'the one' on the first rack I visited.
I told the cashier that this used to be me and my mom's favorite store. It made me teary. I had found a top when I was there too. I almost put it back but my mom's voice rang in my ears, "Just get it." So I did. As I walked to my car I couldn't help but wonder if she had been there with me. Her presence was definitely in my heart.
My mother was a funny lady. She had quite the sense of humor. When driving home I was thinking about how easily I had found a dress and about my epiphany regarding "how she sometimes showed her love." I didn't want to forget these things. I wanted to believe that they were signs of how she was still with me.
Then my eyes fell upon a license plate. You know how you can be driving then all of a sudden your eyes zoom in on someone's plate? It was like that. This one read THXMAMA. Seriously!?! She must be either reminding me to thank her for the help with the dress, or saying, "I told you so" regarding her love for me, or both, I thought. That license plate told me that she has her sense of humor back. I laughed out loud with her.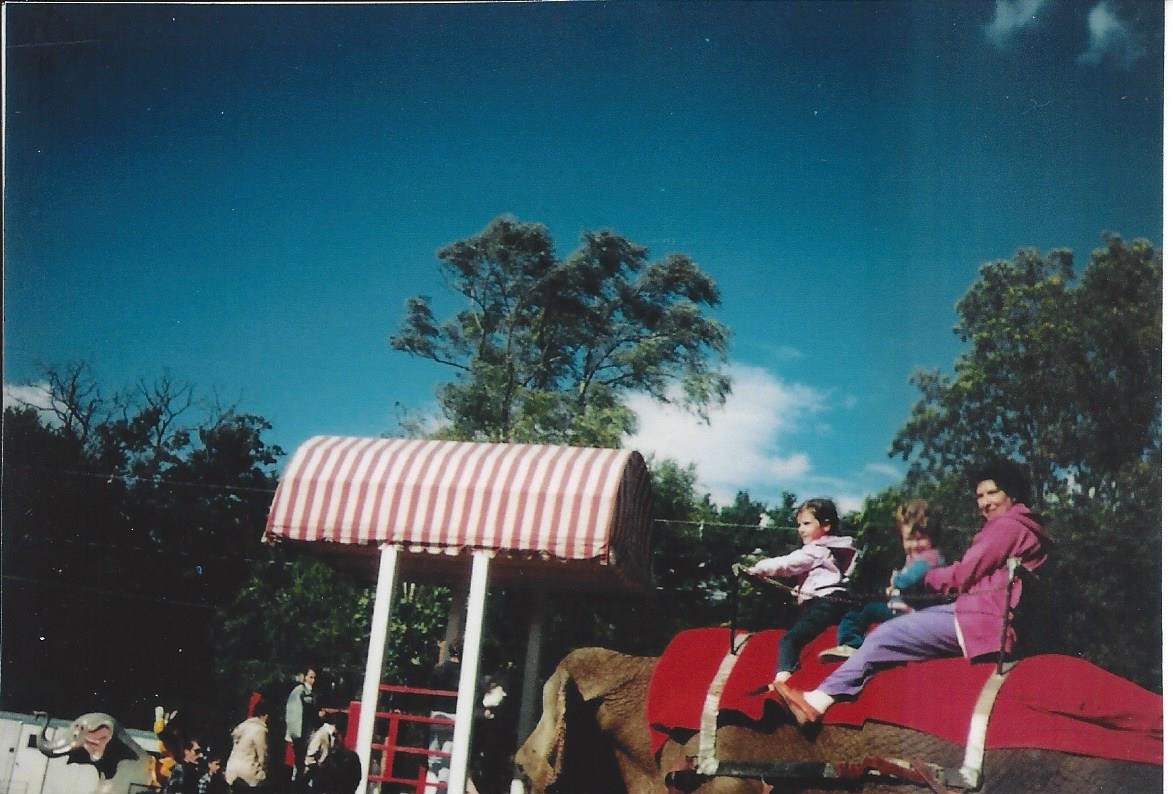 My mother would do just about anything for her grandchildren. Can you believe that they talked her into riding an elephant with them at Benson's Wild Animal Farm? I know. I can't believe it either. Although my mother never rode on an airplane her ride on an elephant definitely had me trumped. She couldn't say, "No" to her grandchildren unless it involved eating a raw tomato. I can't help but wonder if she would have flown if they had thought to ask.
My mother was very close with her sisters. They were her best friends and my cousins were like siblings to me growing up. I remember how my mother and I would bundle up on a snow day to walk to one of my aunt's houses to hang out for the day.
My mom used to talk Italian with her sisters and my grandmother in front of us. We'd have no clue as to what they were saying. I think they liked it that way. In the summer when I was little my dad would take a week out of his vacation to take us all on day trips. They were a tight knit group, my nana, my mom and her sisters. The talking Italian drove me nuts but they had that connection that most people crave.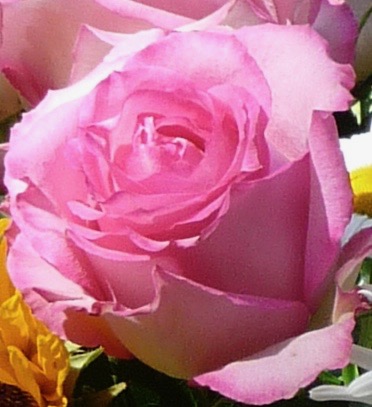 My mother loved my dad. I remember us waiting together at the train station for him with joyful anticipation when I was little. I can't help but wonder if a man can even wrap his mind around how much that connection means at the end of a day to his wife with children. It took me having my own family to get it. He'd often have flowers for her so he must have understood.
My last fond memory of how my mom's love came full circle after she passed had to do with a fish. She would often take one of my children for the day, when they were little, to give me a break. At the end of their time together she'd bring them to Gilchrist's or Woolworth's for a little prize.
Who remembers Gilchrist's and Woolworth's?
This one time Andy was the one having his special day. He decided that he wanted a fish. We'd had goldfish before so we had the supplies but my mom let him pick out a tropical fish.
I had had tropical fish growing up so I'm pretty confident that Mom knew what one entailed. The look on my face couldn't hide my disappointment. This 'break' was going to make my life more complicated because now I had to buy everything one needs for an aquarium to maintain one tropical fish.
We put said fish in the goldfish bowl for the night and hoped for the best. That next morning I awoke to Andy screaming, "MOM!" I ran into the kitchen where I found… 19 fish in the bowl. His fish had been pregnant. I chuckled to myself. Well, better to buy an aquarium for 19 fish than for 1.
The kids experienced hours of enjoyment from having that aquarium so I guess in the end it did give me a break. Just not in the way I had pictured. Yikes!... THXMAMA?!?!
My mother loved God, attended church more than most people do in 20 lifetimes and prayed to the Blessed Mother regularly. I honored her journey but at the end it was definitely heartbreaking from my view.
I'd like to think that this poem explains the heartbreak that myself and my family experienced as we witnessed my mom's final days.
God Only Takes the Best
God saw she was getting tired,
And a cure was not to be.
So He put His arms around her,
And whispered, "Come with me."
With tearful eyes we watched her linger,
And watched her fade away.
Although we loved her dearly,
We could not make Mary stay.
A golden heart stopped beating,
Her working hands to rest.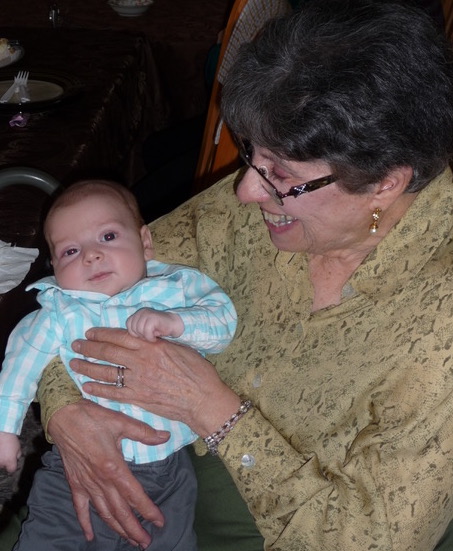 God broke our hearts to prove to us
He only takes the best.
~Author Unknown
THXMAMA!
Happy Valentine's Day!
Friends in this Love,
Trish