The header photo for this post is my favorite juvenile eagle photo to date. For the last few years, I've been following an eagle family in my spare time. It's about a 30-minute paddle from where I launch my kayak to their nest. I've shared a little bit of my journey on FaceBook but with all the heaviness in the world right now I thought it would be fun to go through my photos to reminisce about my eagle adventures. I've even recorded them calling to each other.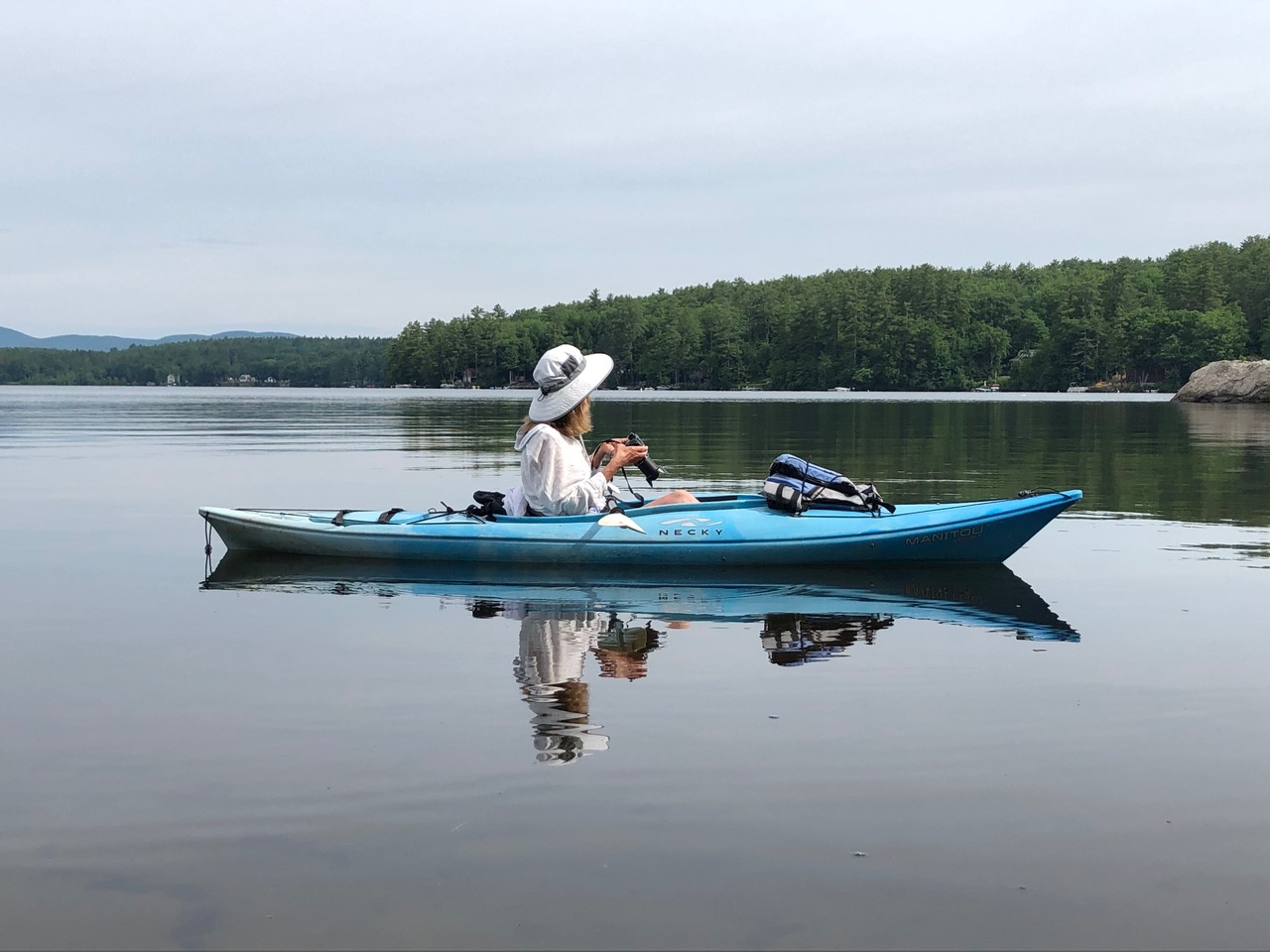 I first noticed the eagles' nest in 2017. I had several eagle sightings which spanned a few years prior to this. I had learned from experience that when an eagle was in the vicinity the loons would sound an alarm. When I would hear this particular loon call I could pretty much guarantee that if I went down to the dock that I would see an eagle. On another occasion I had spotted two large birds flying toward the far end of the lake while going for a boat ride with my family. I asked if we could check it out. They rolled their eyes at me but I insisted. Well it ended up being 2 adult bald eagles and then a third joined them. They dove for fish and put on quite a show for us. Guess who was rolling her eyes now!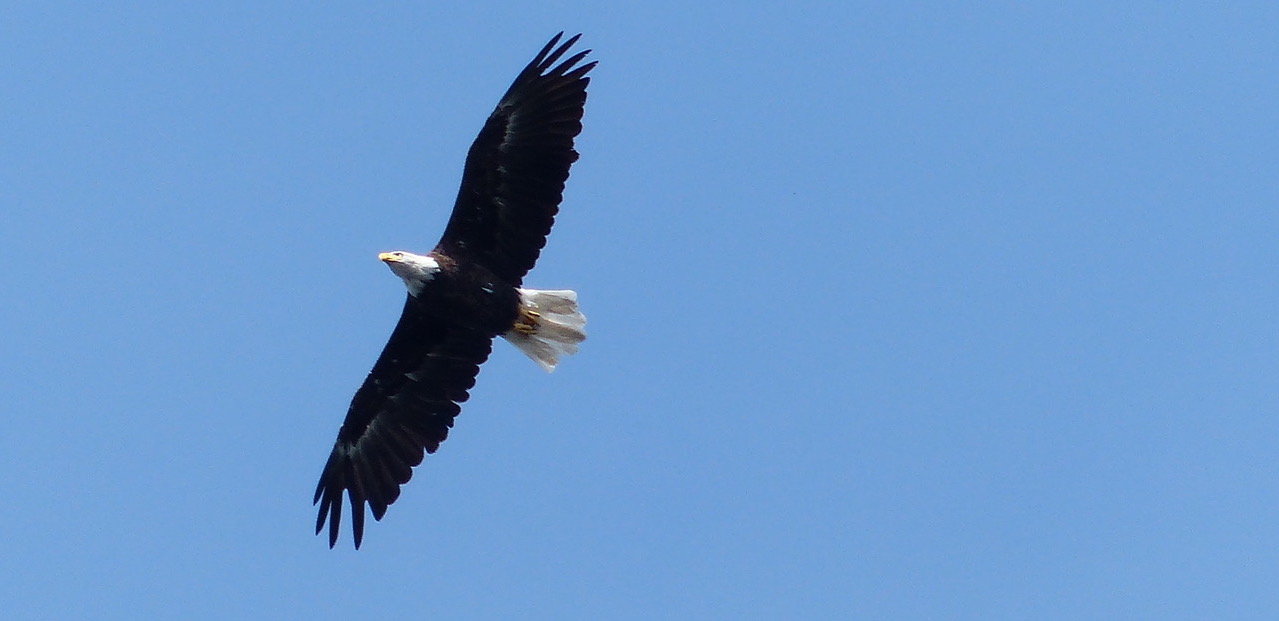 In the spring of 2017 I was going for a boat ride with a friend when I spotted first one mature bald eagle and then another. I wondered if there could be a nest nearby so I asked if he would circle back for me. We watched the eagles to see what they were up to. Lo and behold, they were building a nest on the point.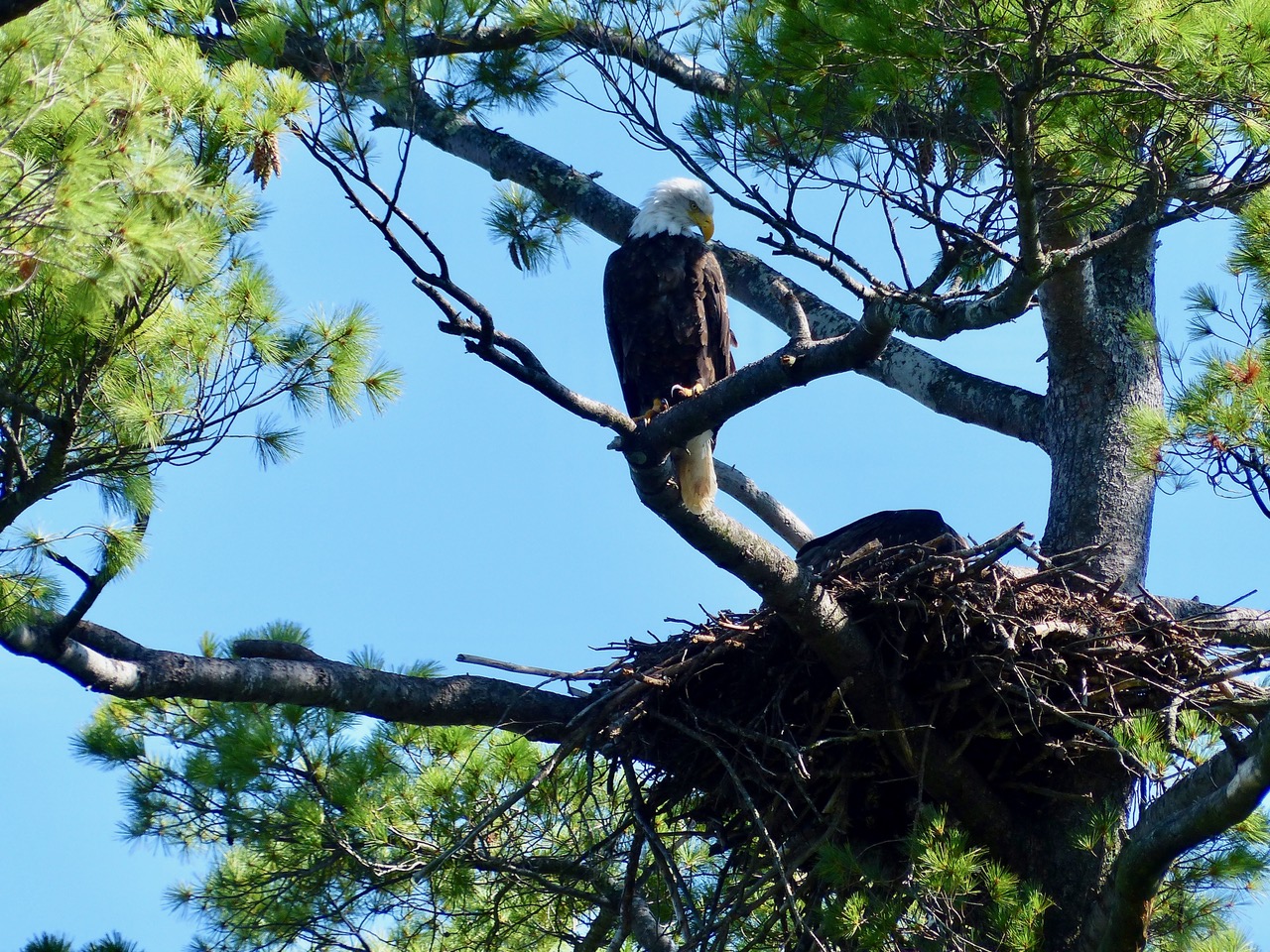 My camera doubles as binoculars. Sometimes I might take up to 100 photos and not quite know what I've got until I get back home and load them onto my laptop. That's how high up in a pine tree the nest is and you have to remember that I take most of my shots from my kayak. Even if the photo looks sharp on my camera, I never know for certain until I get home. There is a thrill that comes with being able to zoom in for a closer look regardless though—like when the eaglets are first born and it's hard to tell with the naked eye if Mama is sitting on her eggs or if there is a chick with her, or maybe two chicks. Comparing shots of the nest will show any subtleties of movement to give me clues.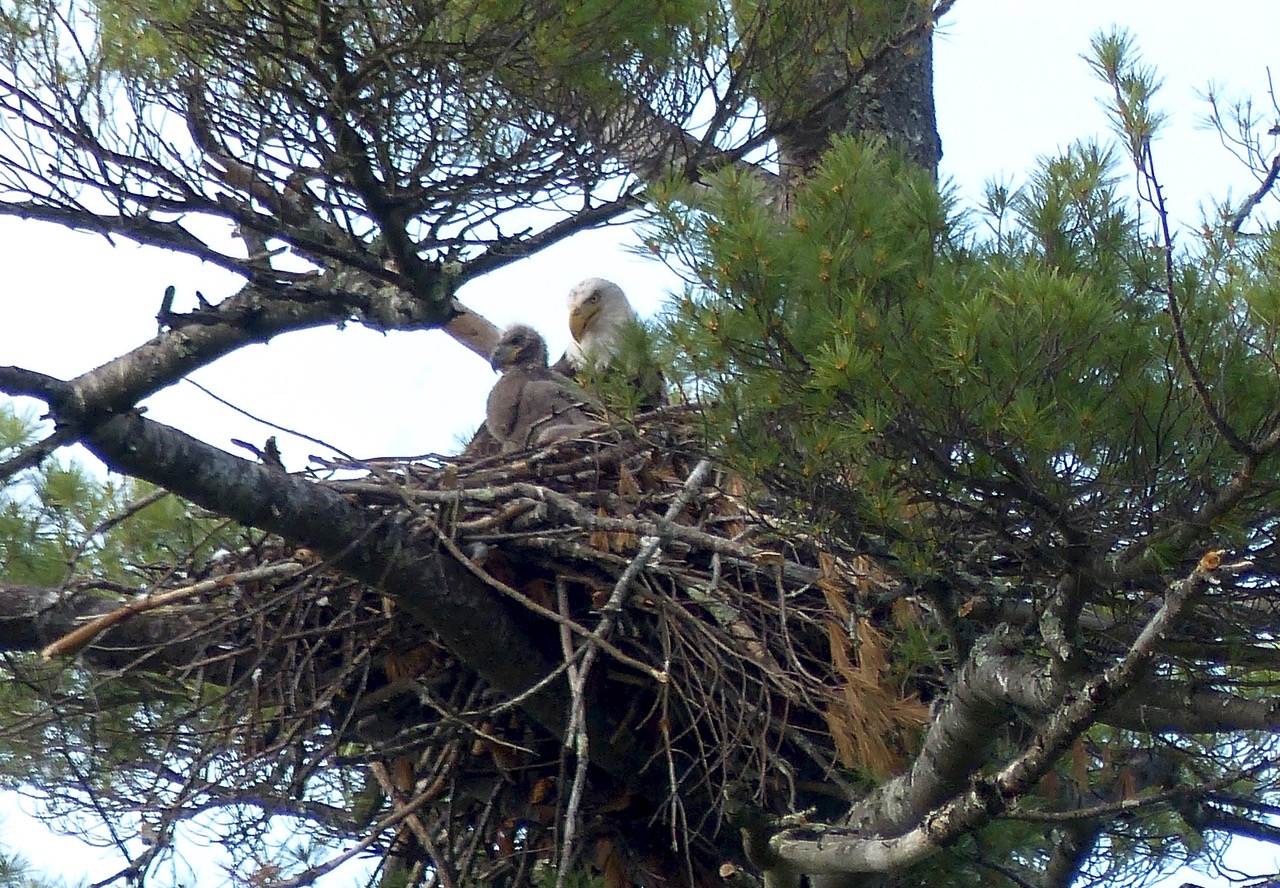 There are a lot of "Where's Waldo" moments in the area of the nest—sometimes we find the parents perched at varying stations to guard the nest from afar or when the eaglets get bigger and take flight we listen for their calls while scanning the neighboring trees. Sometimes we can be looking for 10 to 15 minutes when we hear them and then find them right under our noses. It can be tough to tell exactly where the calls are coming from when on the water.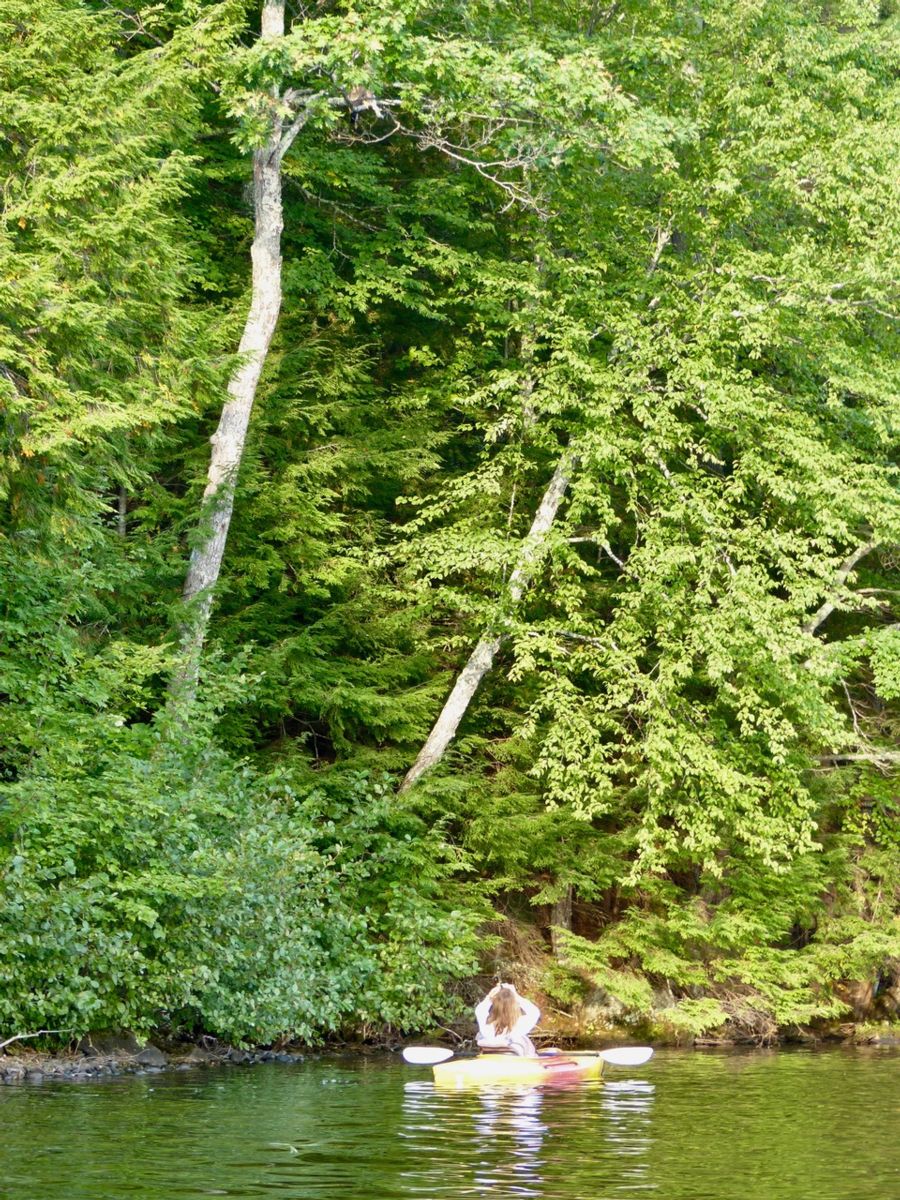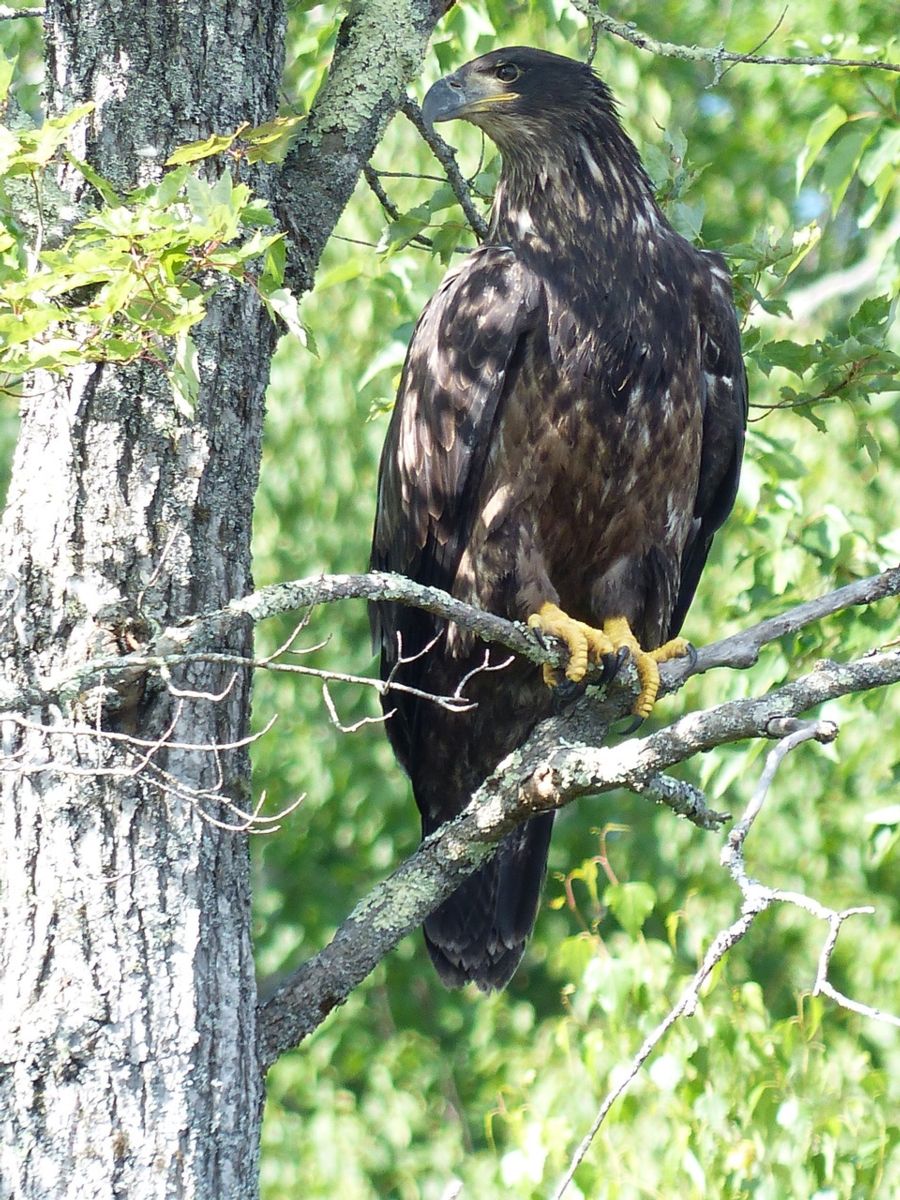 Sometimes I get lucky when they take flight while I'm watching. And sometimes I end up with a butt shot but on further examination realize that an eaglet's been born. That first glimmer of life in the nest is always so exciting!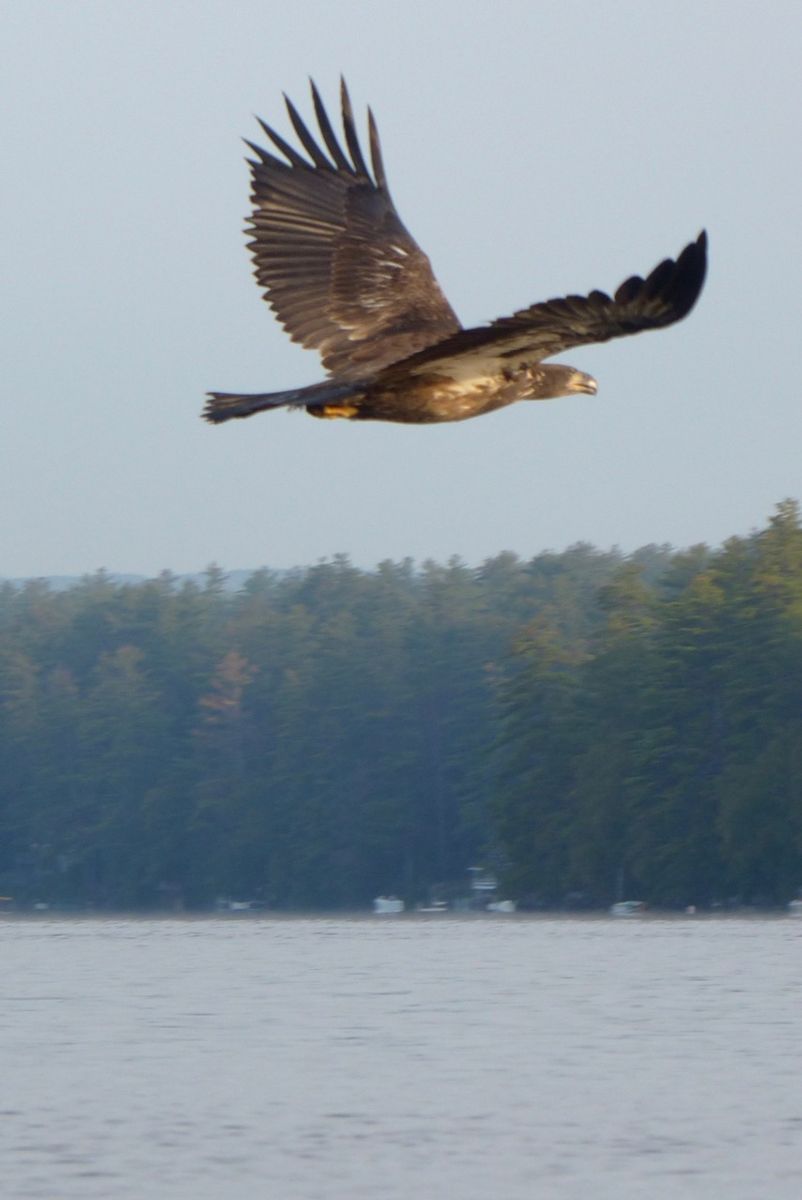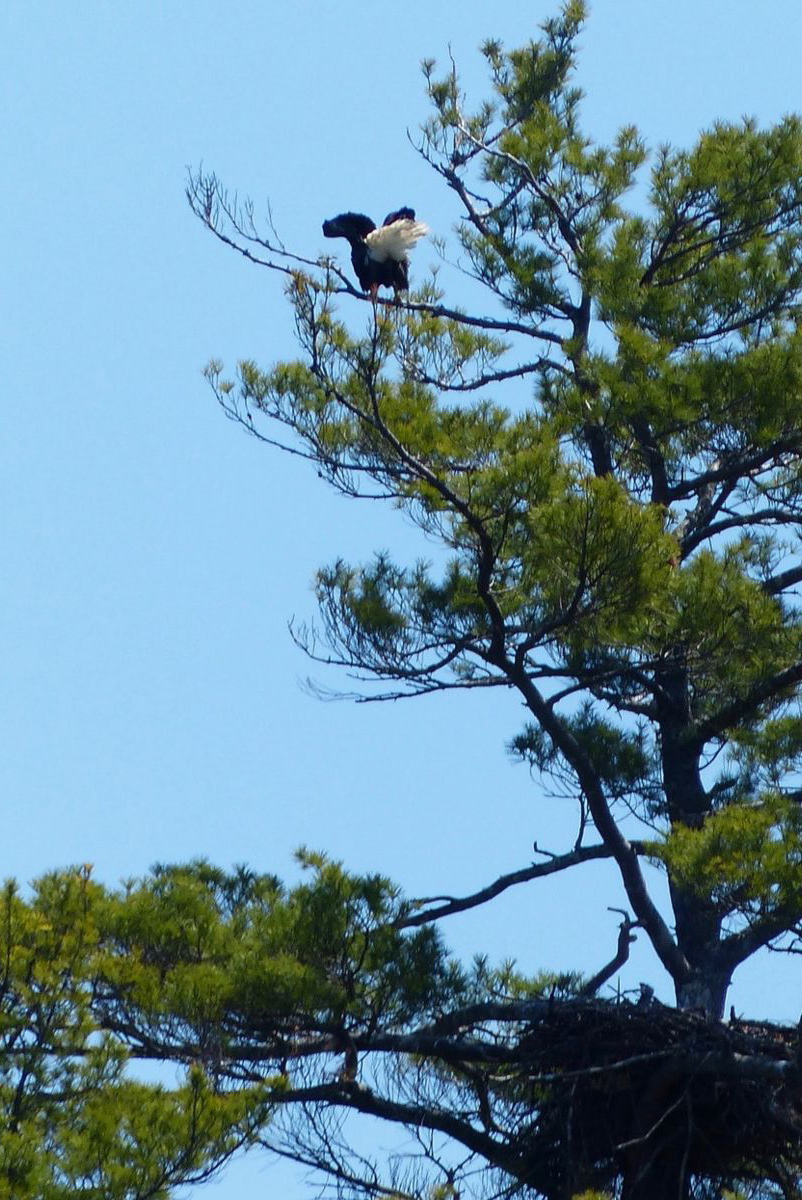 This is fun stuff for me. It brings forth a feeling I can't quite put words to beyond awe, wonder, and enchantment. Some days the eaglets are napping and the parents are out hunting when I arrive so all I get is some exercise. You just never know. Once when with friends, we saw a group of small raptors raid the empty nest. It happened so quickly and caught me so by surprise that I didn't get a photo. And sometimes smaller birds such as crows or blue jays taunt the eagles, giving their location away. I was fortunate to capture some cool shots on one of those days.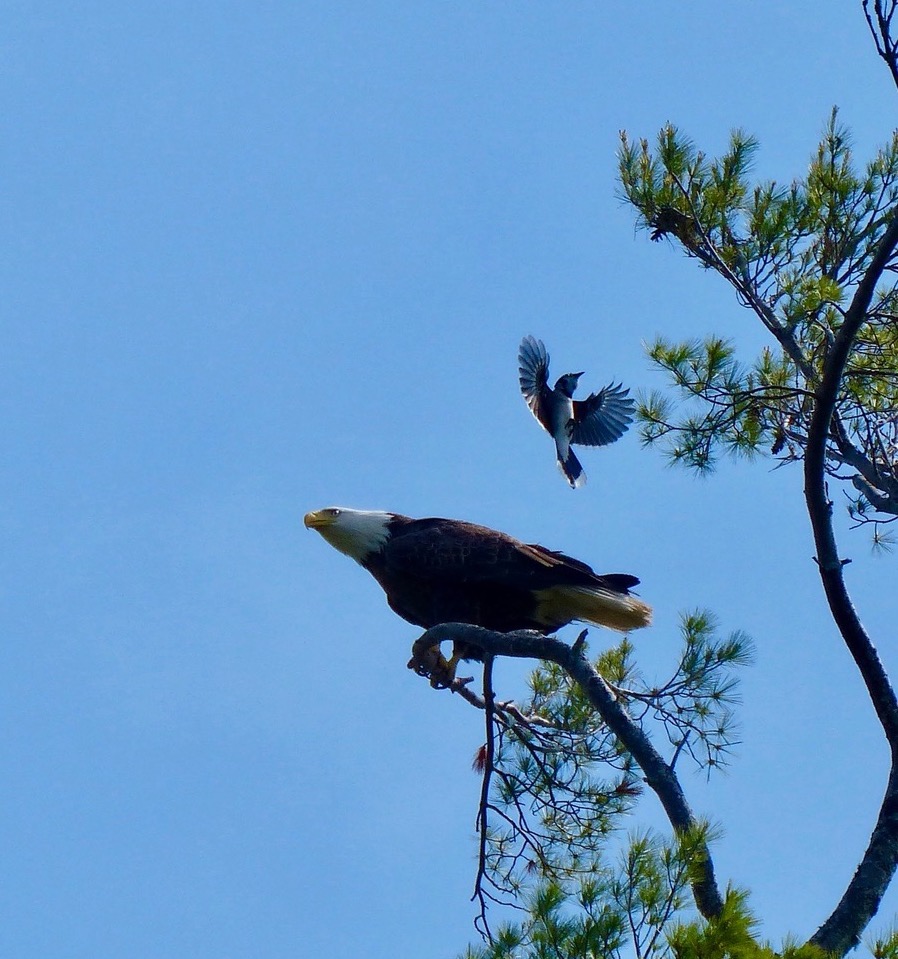 Trivia: Based on my research, bald eagle chicks are called eaglets. Eaglets are nestlings for 10 to 12 weeks. By the time they are 9 weeks old, they are full-grown. At about 3 to 4 weeks their feathers begin to change and around 12 weeks is when they begin flying. Mom is in the nest with them about 90% of the time for the first 5 to 6 weeks and Dad does the majority of the hunting. After 5 to 6 weeks the parents spend more and more time away from the nest, perching in nearby trees at first. Mom is approximately 1/3rd larger than Dad while they both have the same coloring—dark brown with white heads and tails and yellow beaks. The female's wingspan can be up to 8 feet. It takes a bald eagle between 4 and 5 years to get their adult colors including their yellow beaks. Even their eye color changes. They can't breed until this time either. Bald eagle expert, Bryan Watts, says eagles have a divorce rate of less than 5%. Not too shabby!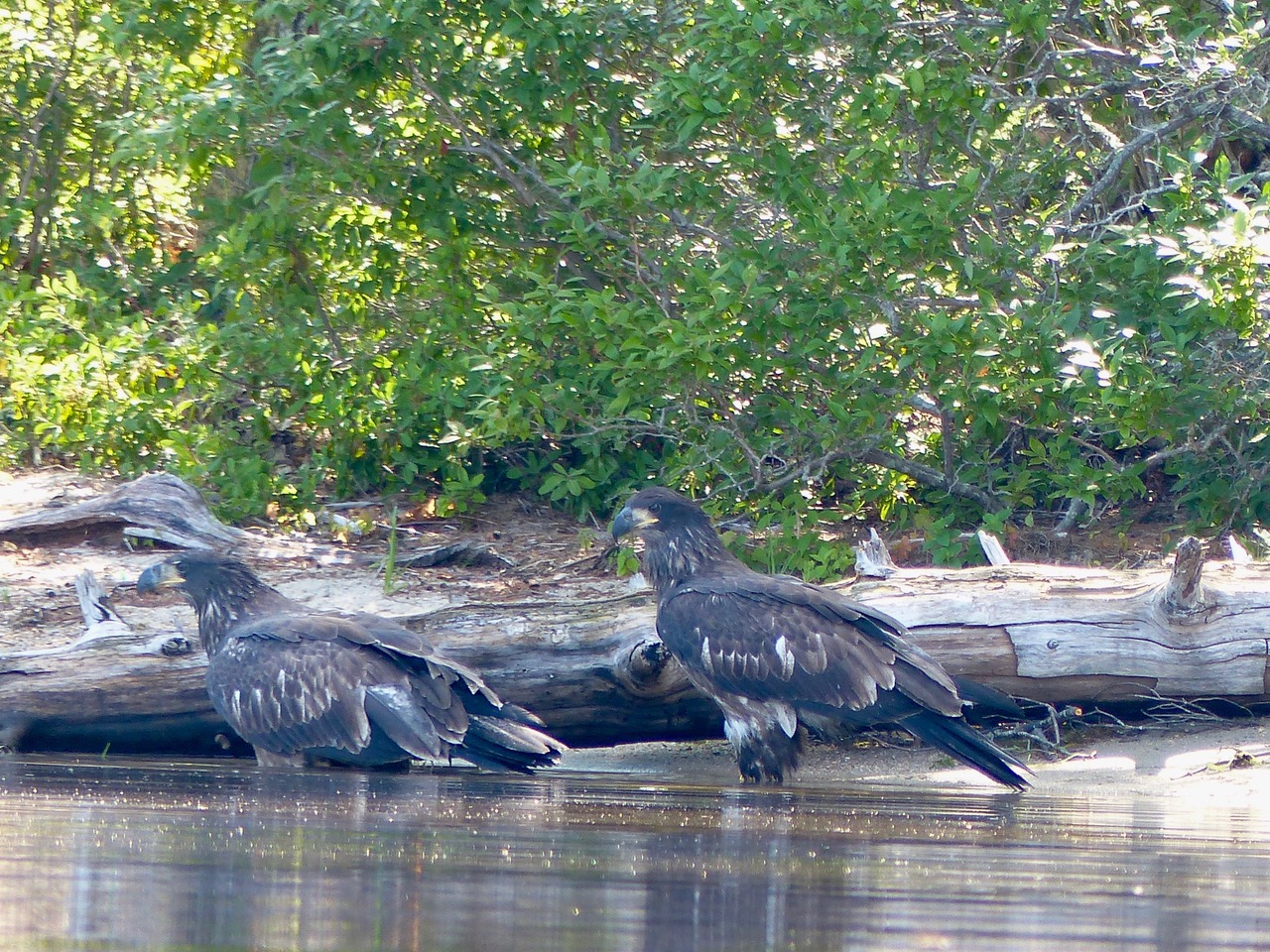 From my experience, although the eaglets are born in mid to late May and by 9 weeks are as large as their parents, the adults are still feeding them weeks after they have fledged. The photo below is of one of the parents bringing food to the nest and one of the juveniles chasing after her to share the meal with its sibling who was already there. (taken late August).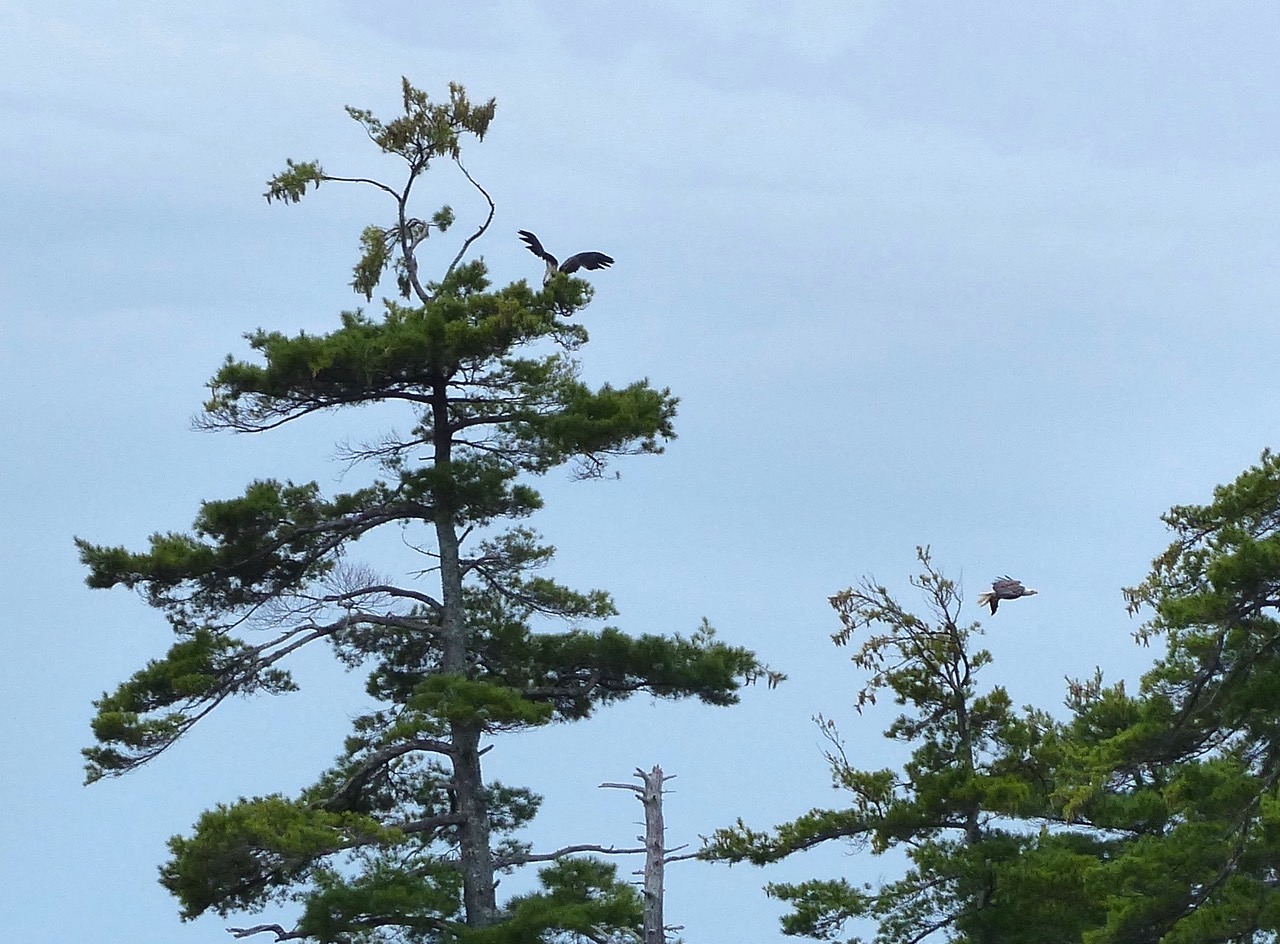 It's always a treat to arrive in the middle of a training session. The eaglets are pretty awkward on land compared to their parents. They use their wings as training wheels.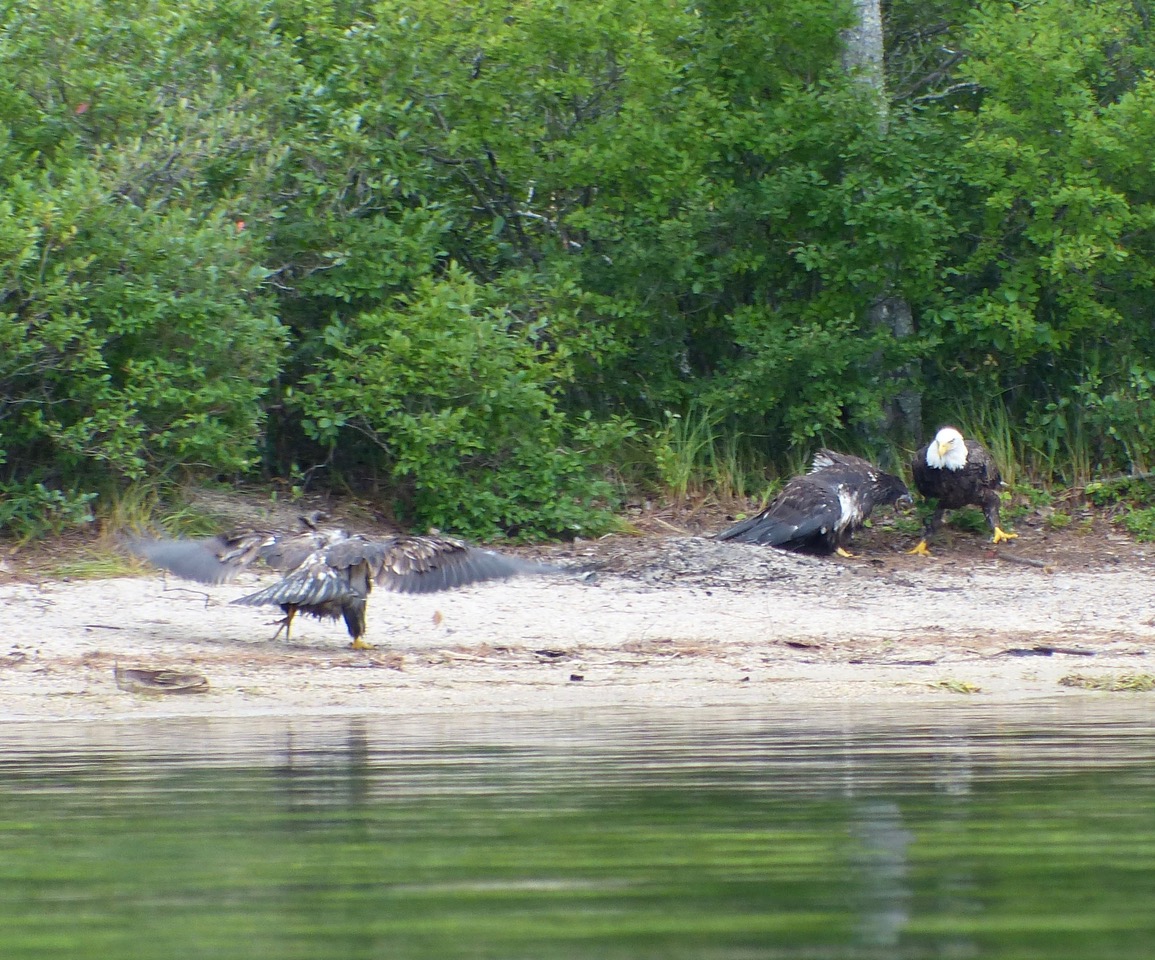 As much as I enjoy my visits to the nest area where I'm pretty confident I'll catch a glimpse of an eagle, one of my favorite experiences is when I'm not looking for one and just happen to look up to find that there is one looking down at me. Then add the delight of viewing my photos on my laptop to find that a dragonfly has photobombed my capture increases my degree of delight exponentially. (Some of you know that I'm a big fan of dragonflies too.)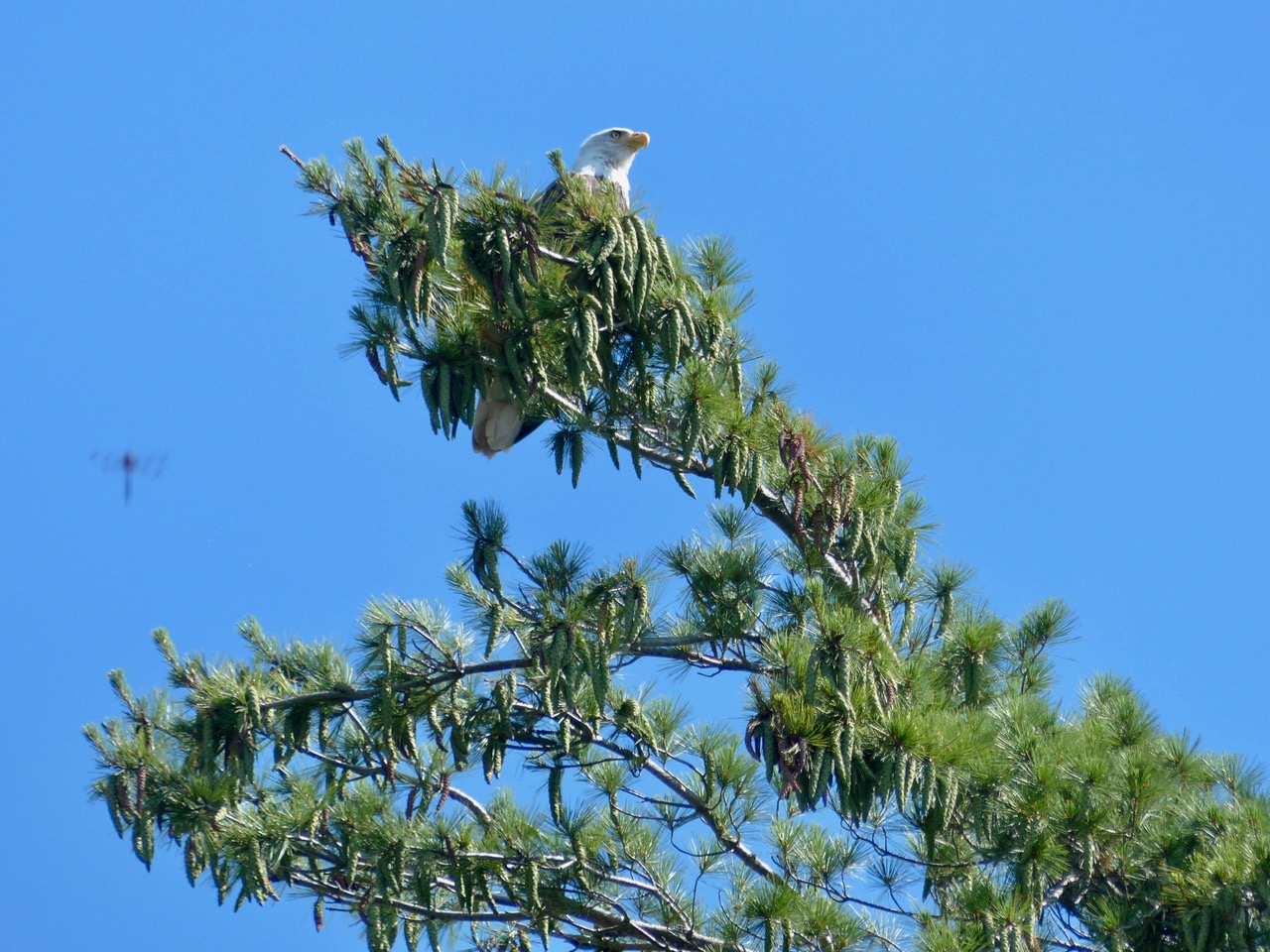 Lessons from my eagle friends:
I have learned some profound lessons from my eagle friends. To follow are a few of my stories.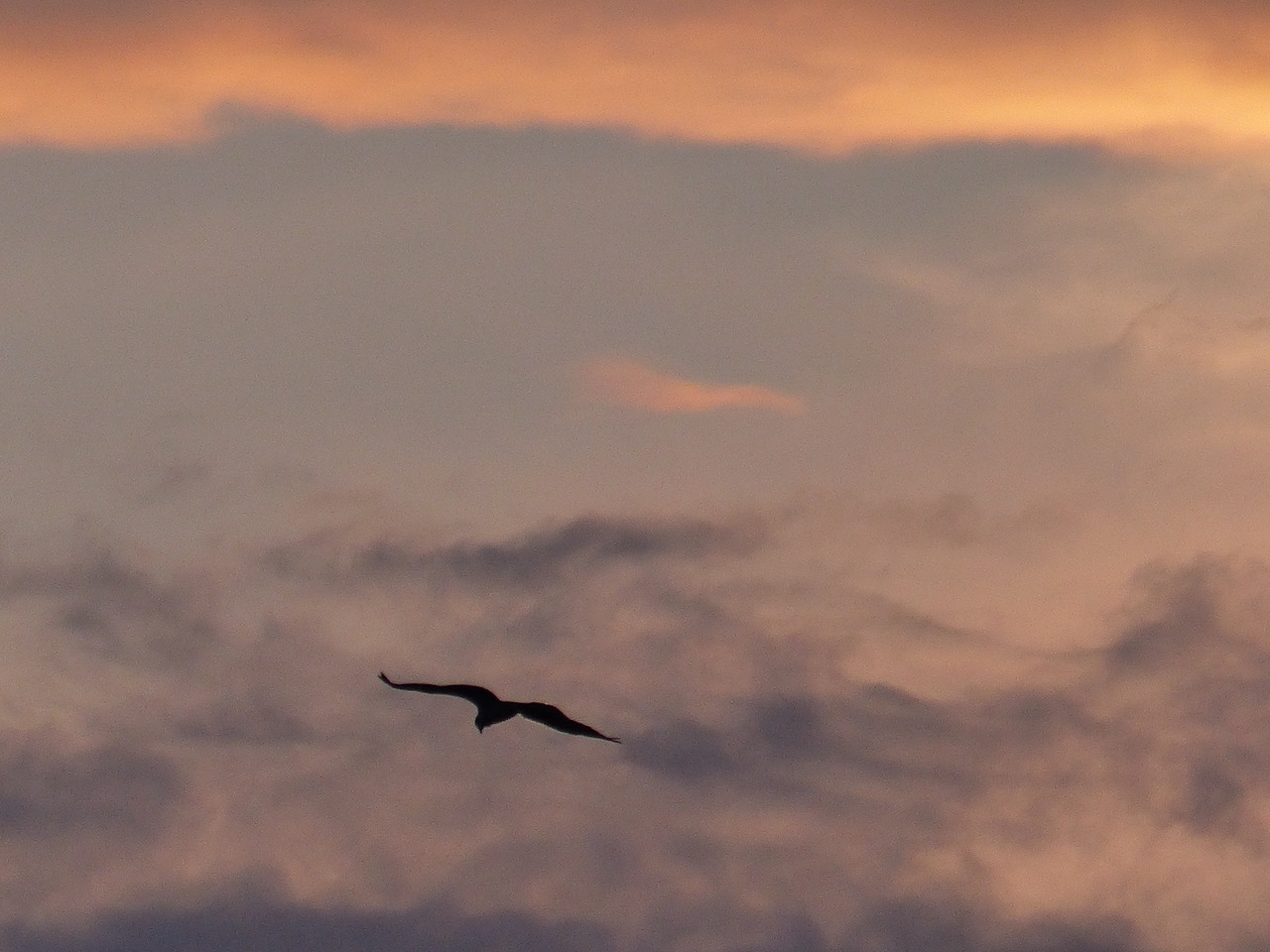 1st Lesson: Years ago I spotted an eagle high in the sky while watching the sunrise. I asked if it had a message for me. What I got was, "Don't be afraid to love, that's how you come to know God." WOW! That was years and years ago but I remember it to this day.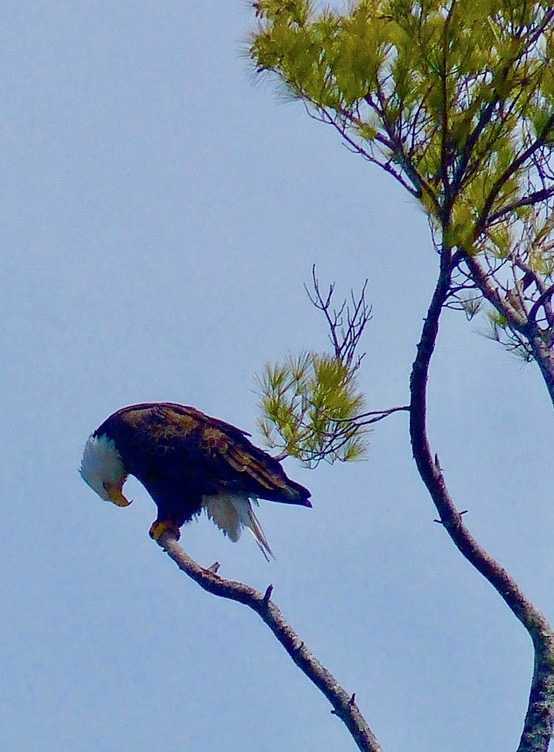 2nd Lesson: I learned something about trusting my intuition from an eagle. One morning I had decided to get up early and kayak out to the middle of the lake to photograph the sunrise. Or so I thought. This was when eagle sightings were still rare, too. I was uncovering my kayak when my intuition said, "Go over to the dock and take a picture." "But it's dark, and it's not even pretty," I argued. I caught myself arguing and walked over to the dock, but I didn't take my camera out of the case. Next thing I know I hear this rustling noise above my head followed by kind of a woosh, woosh, woosh sound. A bald eagle had been perched directly above my head. As it swooped down right in front of me I wrestled to get my camera out of its case. I missed the shot but at least it landed on the island nearby. I paddled as fast as I could and it let me take a bunch of photos. Now when I catch myself arguing with my intuition I burst out laughing—as if I know better.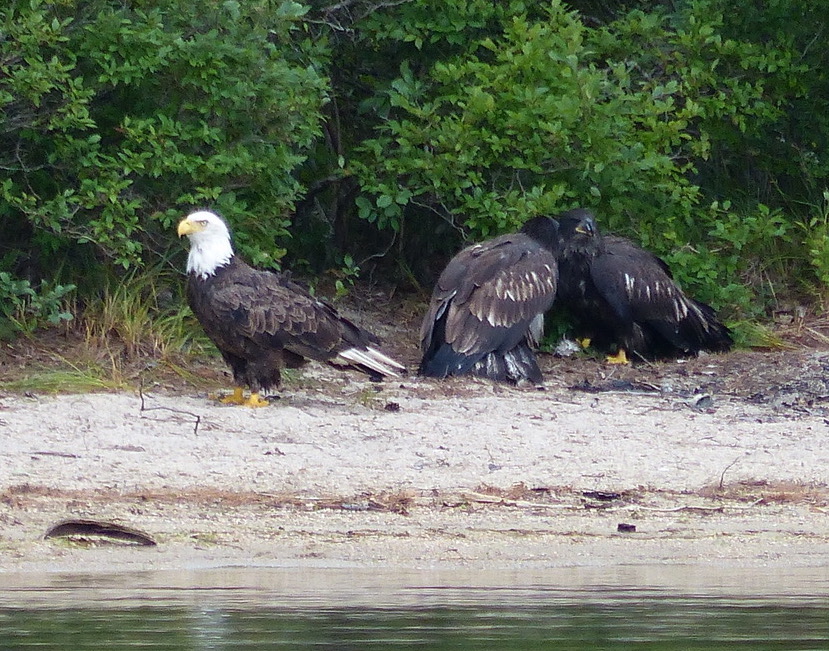 3rd Lesson: I used to give my intuition to my ego without even realizing it until an eagle cured me of that. I was facilitating a kayak meditation with my retreat group. I couldn't decide which direction to go since one of the participants had done the kayak meditation with me before. So I decided for us all to begin by closing our eyes and setting some intentions. The retreat's focus was boundaries so we asked for Nature to teach us about boundaries. I also asked silently which way to go. The moment we opened our eyes a blue heron was flying by so I took it as a sign to head in his direction. We had lost sight of the heron until we accidentally violated his boundaries and he took off. This was our first lesson. Don't be apologetic for honoring your boundaries. Looking back it was at this point when I let it go to my head. I could feel it going to my head even. My ego wanted to take credit for the decision so it told me its logic: We're going in this direction because Sally went the other way last time she was here. The voice in my head sounded like such a know-it-all. My intuition doesn't sound like that at all. We didn't see anything else for a while but then my intuition said to head into the channel. It was there that we got to witness an eagle soaring. That was why we went this way. I had secretly been hoping we'd see an eagle. It had nothing to do with Sally. So now I'm aware of asking for direction: When I receive direction, rather than let it go to my head when I reach the destination, I've learned to then ask for my next directive instead.
"Love is like driving a car at night. You never see further than your headlights, but you can make the whole trip that way." ~Unknown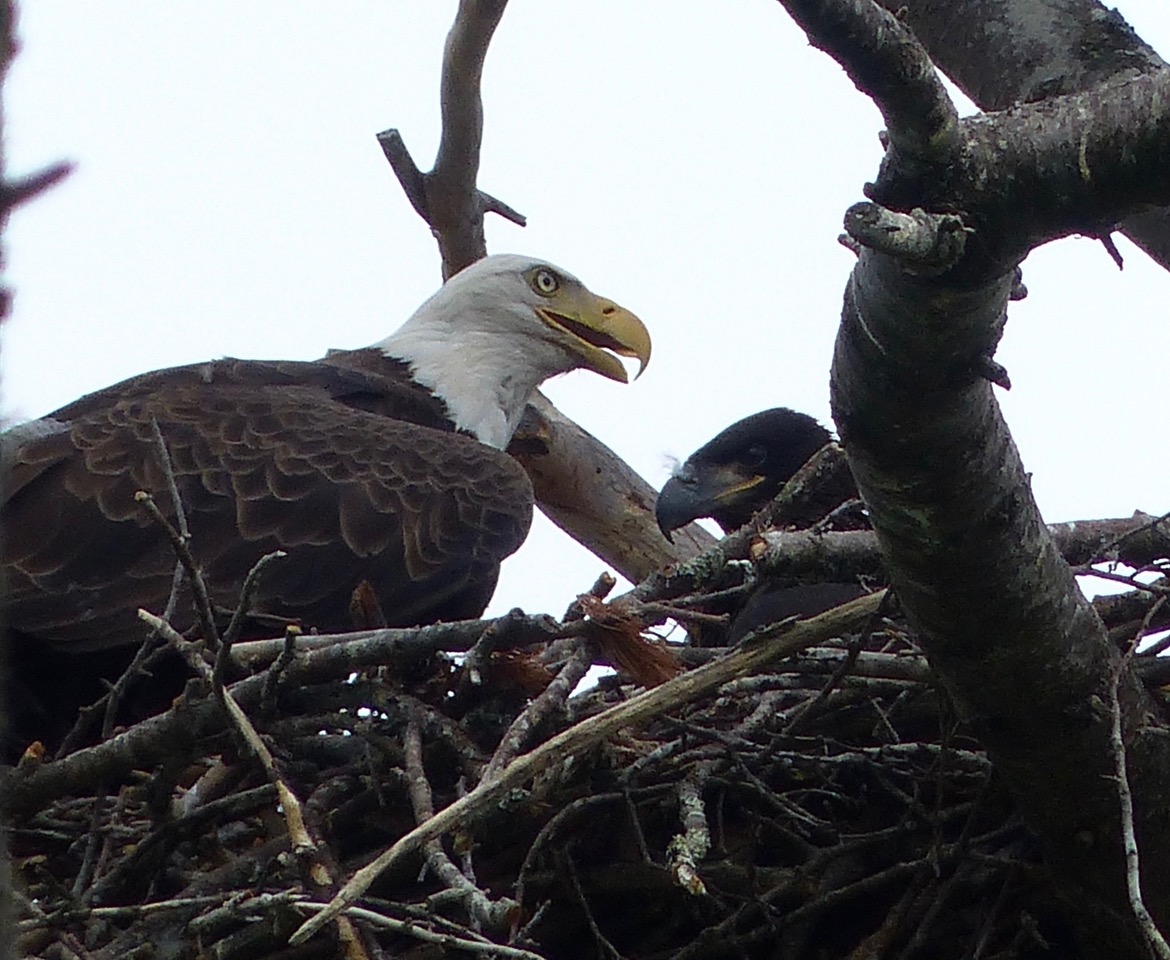 Photography is a hobby for me and photographing eagles definitely stretches my camera's capabilities but I enjoy getting out there with what I've got. I hope you have enjoyed strolling down eagle lane with me. I hope my post has offered you a little respite, some eagle trivia you might not have known, a sneak peek at some of my favorite eagle photos, and maybe even some insights.
Friends in this Love,
Trish